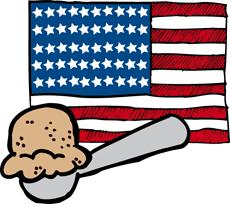 Zingerman's
has a fabulous inauguration ice cream called Barack-y Road Gelato, which they describe like this:
Barack-y Road is new, our special blend made just for inauguration. Handmade marshmallows, butter-roasted peanuts, dulce de leche caramel and chocolate chips that gelato genius Josh makes himself. That's in addition to the base of fresh milk from Calder Dairy (one of the last farmstead dairies in Michigan), organic Demerara sugar and Madagascar bourbon vanilla beans.
Eat it because it's chilled and he's chill. Eat it because he's facing a rocky road but it will turn out sweet in the end. Eat it for any reason, just be sure to bring all your friends to the table. It serves twelve of them nicely.
Alas, I no longer live in Ann Arbor, so can't get a scoop of this, but I picked up some slow-churned rocky road ice cream and some caramel sauce today and we'll have a dish while we watch the inaugural address for the second time tonight.
It was so exciting to see all the donation quilts that people worked on yesterday! Thanks to everyone who let me know they would be doing this. I'll put up links that people have sent me so far, and I'll keep posting links over the next few days. Please post a photo of a charity project you worked on for the MLK National Day of Service and I'll post a link to your blog.
Roz
made some great crazy blocks for a quilt for an agency that helps the homeless.
Susan
finished a colorful, cheery Project Linus quilt.
Trisha
worked on a bright charity quilt, a fun pattern.
Magpie Sue
turned a red and white UFO into a preemie quilt.
Gari
worked on a disappearing nine-patch for law enforcement to give to a child who has to be removed from his home.
True Blue Nana
worked on a lovely blue and orange star quilt for donation.
Quiltdiva Julie
has just finished her
So Many Memories
Alzheimer's quilt and got it ready to ship off.
If you participated in the Day of Service by quilting for charity, please let me know and I'll post a link. It's such a wonderful feeling to know that our quilts will be big hugs for someone who really needs one.